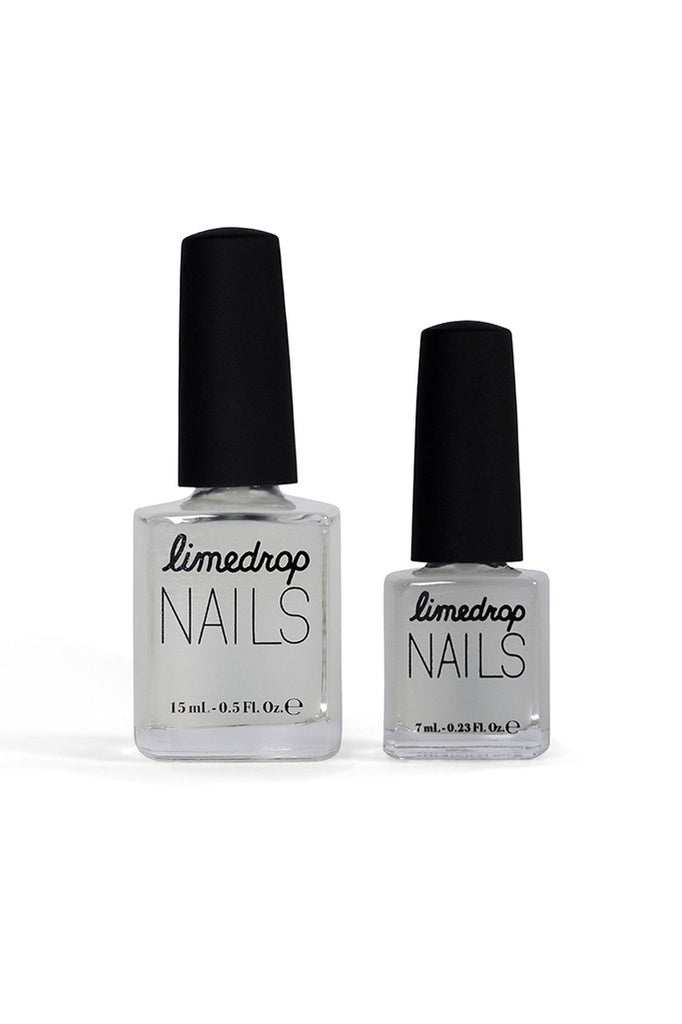 Matte Limedrop Top Coat
Limedrop Nail Polishes are inspired by Australian flora, fauna, icons and culture.
Matte Limedrop Top Coat
Made in Australia
Nail Technician preferred, professional wear and chip resistance
Superior gloss
Fast drying time
5 Free Formula
Vegan
Palm Oil free
Choose Cruelty Free Accredited
Not tested on animals 
Our high end polish is made in small batches that undergoes a battery of quality, stability and contaminant tests before being released for shipping. Limedrop Nail Polish satisfy all the compliance requirements of cosmetic markets around the world. The product is expected to deliver superior gloss with a quick drying time and good colour stability and integrity.
Stored correctly, polish will last for years. Our polishes are labelled with a PAO (period after opening) of 24 months. The shelf life of polish products, both colours and clear coats is many years. If polish is stored in a cool dry place, unopened, for several years, it will continue to perform at a level expected of a polish product when first purchased. It should paint well, dry reasonably quickly and adhere to the nail as expected and maintain its integrity for many years. If the lid is tightly sealed and the cool temperature is constant with no direct light applied, the product will continue to perform.
Limedrop Nail Polish is high quality. The 5 Free Formula does not contain 
CAMPHOR: 

In rare cases, camphor can cause liver damage when applied to skin. And nail biters be warned— it's been linked to seizures when ingested.

DIBUTYL PHTHALATE: 

An endocrine disruptor, dibutyl phthalate is toxic to the reproductive system, and can effect a baby boy's genitalia development. Plus, it's been linked to obesity.

FORMALDEHYDE: 

A known carcinogen that can also cause organ and immune system toxicity, formaldehyde is an ingredient to avoid at all costs.

FORMALDEHYDE RESIN: 

This formaldehyde derivative may not be as toxic, but it's a known allergen, and can cause skin irritations, as well as eye and lung irritation (and we know we all inhale some nail-polish fumes when we're swiping on color).

TOLUENE: 

Toluene not only impairs breathing and can cause nausea, but it's also toxic to the nervous system, can cause developmental damage to a fetus and is linked to malignant lymphoma.